Uttarakhand Chunav: No basic facilities, only snow from above.. How will voting be done in these hundreds of booths?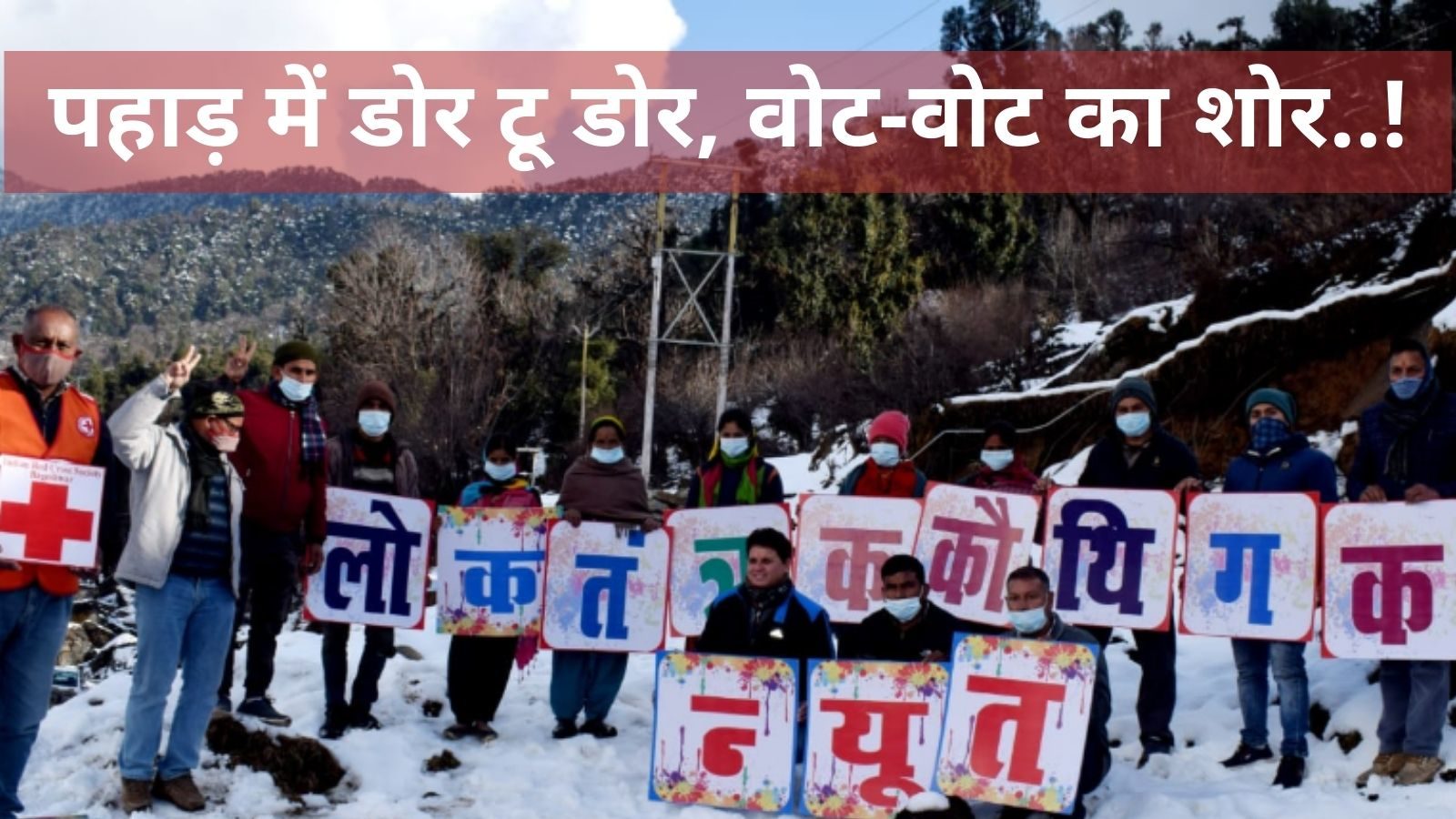 Balbir Singh Parmar/Sushmita Thapa
Uttarkashi/Bageshwar. Voting is to be held in the state on February 14 and weather can be the deciding factor here. Polling parties may have to face a lot of weather challenges to conduct the polling process in 113 snow-covered booths in three assemblies of Uttarkashi district. At the same time, the apathy of the voters regarding the elections in Bageshwar is a big issue, about which the Election Commission is also running an awareness campaign by crossing the snow. Not only this, there is also a problem of road and communication infrastructure in these two districts that it will be difficult to conduct elections here.
There are 62 such villages in Uttarkashi district, which are completely cut off from road and communication. The lack of other basic facilities also remains till date. It takes two to three days for polling parties to reach most of the booths as many booths have to walk 5 to 10 km. In such a situation, if the weather is unfavourable, then the polling parties will have to go through tough challenges. The district administration claims that along with satellite phones for polling stations and polling parties, arrangements are being made to deliver gumboots, socks, gloves and EVMs with cover to avoid the cold.
Booths of three assemblies covered with snow
Purola-Rapravi Sankhal, Kamra, Sargaon, Digadi, Ponti (Badiad), Kimdar, Chiwan, Walavat, Maunda, Dhara, Tikochi, Kiranu, Makudi, Duchanu, Arakot Damti, Kalich, Devati, Bhutanu, Danganugaon, Kalapan of Uttarkashi , Khedmi, Liwadi, Kasla, Rala, Fitadi, Jakhol, Dhara village, Sunkundi, Paon Malla, Sankri, Kotgaon, Saturi, Savani, Sirga, Osla, Pavani, Gangad, Taluka, Bari, Hadwadi, Sewa, Doni, Khanna, Masri , Bhitri, Khanyasani, Pujeli, Kansola, Jakhali, Banal, Kafnaul, Himrol, Mugarsanti etc.
At the same time, in Yamunotri Patgani, Basrali, Sarnol, Kursil, Sayanachatti, Badiya, Dagud village, Kupda, Nisni, Pindki Madesh, Durbil, Narayanpuri, Kharsali Banas, Rana, Khaneda, Syalna, Halna etc. Harsil, Mukhwa, Bagori of Gangotri seat etc. , Dharali, Gangotri, Jhala, Purali, Jaspur, Sukkhi, Bhukki, Salang, Hurri, Bhangeli, Tihar, Kujjan, Rathal, Natin, Warsu Gorsali, Jakhol, Sora, Salu, Sari, Syawa, Silla, Jaudav, Pilang and Agoda etc. The booths are snow covered.
SVEEP team reached the voters by crossing the snow
Here, if we look at the voting figures, the people of Bageshwar do not seem excited. In the 2017 assembly elections, the total voting percentage in both the assemblies of the district was 61.18. On the guidelines of the Central Election Commission, the team of SVEEP (Systematic Voters Education and Electoral Participation) is busy going from village to village to make voters aware for more voting across the district. The team is also going to the villages where people have announced boycott of elections. To reach here, they have to cover many kilometers of icy roads. Snowy weather continues to be a factor here too in terms of voting.
Be the first to read breaking news in English Newsbuzz.live English | Today's latest news, live news updates, read most reliable English news website Newsbuzz.live English |
,