UP Election: SP strengthened with 2 ministers, 6 MLAs and a dozen former MLAs, see who joined Akhilesh along with Swami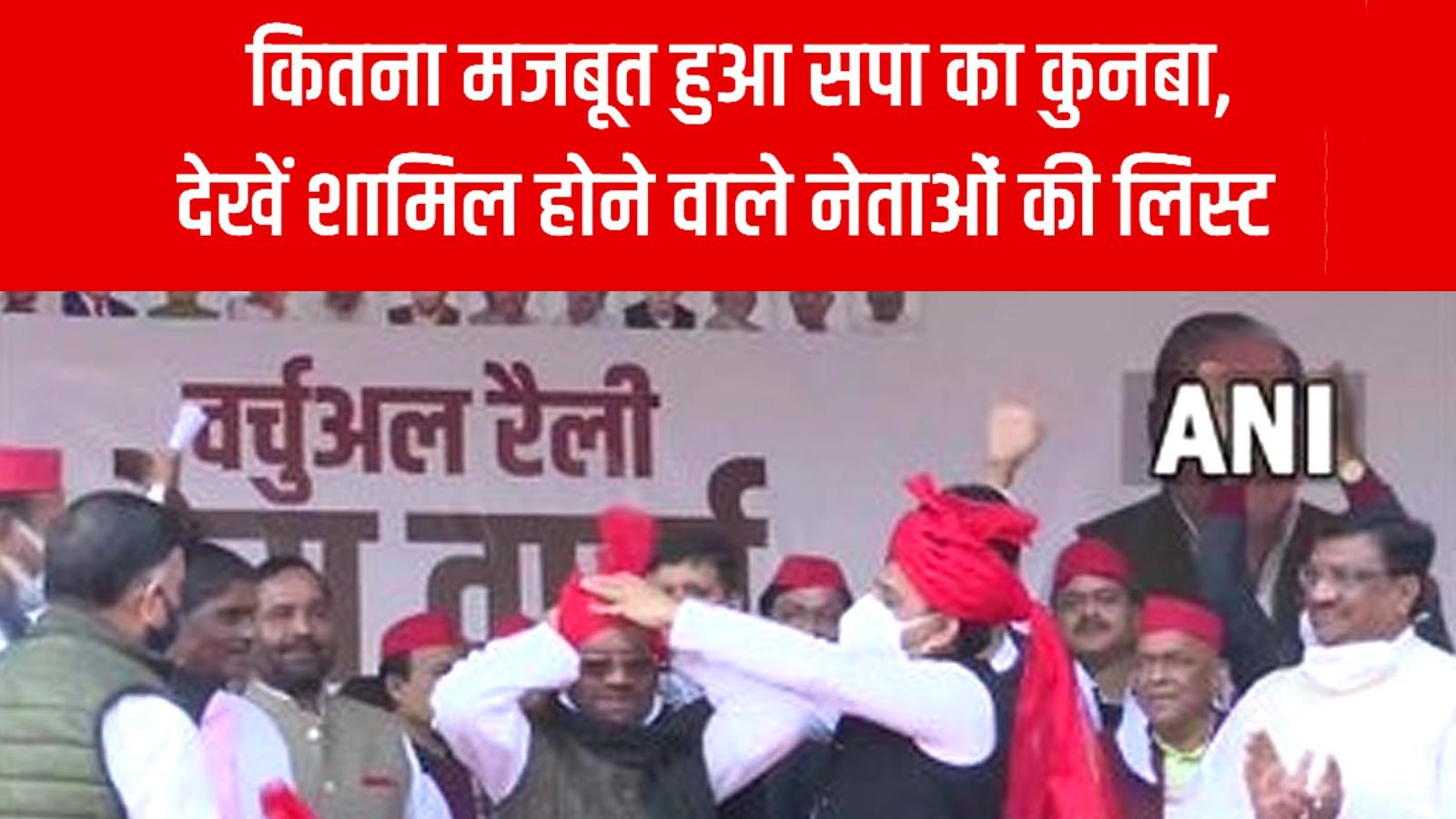 LucknowSamajwadi Party (Samajwadi Party) has made a big dent just before the assembly elections to be held in Uttar Pradesh (Uttar Pradesh News) and has tried to strengthen its clan by giving several setbacks to the BJP. In the presence of Akhilesh Yadav, from Swami Prasad Maurya to Dharam Singh Saini, dozens of MLAs and former MLAs rode on bicycles today. During a program organized in Lucknow, many leaders including Swami Prasad Maurya, Dharam Singh Saini, Bhagwati Sagar and Vinay Shakya, who quit the BJP, joined the Samajwadi Party in the presence of Akhilesh Yadav. Apart from Swami Prasad Maurya, Dharampal Singh Saini, about 20 former MLAs including BJP and BSP also joined the Samajwadi Party.
How Swamy attacked BJP
Swami Prasad Maurya attacked the BJP as soon as he was born. I thought that BJP would do a good job after suffering exile for so long but BJP did not. Today I want to tell BJP that this program which is happening today on 14th January, will create such a storm, which will blow the BJP's head. Akhilesh ji is educated young man and lakhs of people of the state together with him will destroy the BJP.
Swami's attack by taking sister's name
Swami Prasad Maurya said that the one with whom I leave, no one exists. Our sister-in-law is living proof of this. Behen ji changed the slogan of Kanshi Ram ji, I opposed it but she did not agree and today she has no existence. There, on Yogi's 80 vs 20 statement, he said that the fight is not 80 vs 20 but 85 vs 15. We say that 85 is ours, 15 is also divided. If you are a sympathizer of Hindus then why do you rob the reservation of backward, scheduled castes and tribes.
List of Uttar Pradesh BJP MLA: Who joined the SP today
Swami Prasad Maurya (was a minister in the Yogi cabinet)
Dr. Dharam Singh Saini (was a minister in the Yogi cabinet)
Bhagwati Sagar (MLA, Bilhaur Kanpur)
Vinay Shakya (Bidhuna Auraiya)
Roshan Lal Verma (Tilhar Shahjahpur)
Dr. Mukesh Verma (Shikohabad)
Brijesh Prajapati (Tindwari Banda)
Amar Singh Choudhary (Apna Dal)
Other leaders who strengthened the clan of Samajwadi Party
Ali Yusuf, former MLA
Ram Bharti, former minister
Neeraj Maurya, former MLA
Harpal Saini, former MLC Meerut
Balram Saini, former MLA Moradabad
Rajendra Pratap Singh, former MLA Mirzapur
Vidrohi Maurya, former Minister of State
Padam Singh, Chief Security Officer
Bansi Singh Pahadia, former MLA
Amarnath Maurya, Chairman Cooperative Bank
RK Maurya, Social Activist
Balram Maurya, State Backward Classes Commission Member
Mahendra Maurya
Rajinikanth Maurya,
Ram Lakhan, Faizabad
Devesh Srivastava
Satendra Kushwaha
Gulab Maurya, Backward Classes
Jitendra Pal
Chaudhary Harpal Singh, Bharatiya Kisan Union
List of MLAs who quit BJP (who resign from bjp)
1. Swami Prasad Maurya
2. Bhagwati Sagar
3. Roshanlal Verma
4. Vinay Shakya
5.Avatar Singh Bhadana
6.Dara Singh Chauhan
7. Brijesh Prajapati
8.Mukesh Verma
9.Rakesh Rathore
10.Jai Choubey
11.Madhuri Verma
12.RK Sharma
13. Bala Prasad Awasthi
14.Dr. Dharam Singh Saini
15- Chaudhary Amar Singh
Elections will be held in 7 phases in Uttar Pradesh
Elections will be held in 7 phases in UP. Voting will be held in UP under these phases on February 10, February 14, February 20, February 23, February 27, March 3 and March 7. The results of the elections will come on March 10. The first phase will start from the districts of western Uttar Pradesh and gradually the caravan will move towards eastern Uttar Pradesh and end. This time also the elections in UP will start from West UP like last time. The last phase will be in Purvanchal. Voting will be held in 58 assembly seats in the first phase and 64 in the last phase.
Be the first to read breaking news in English Newsbuzz.live English | Today's latest news, live news updates, read most reliable English news website Newsbuzz.live English |
,