RIP Kamal Khan: Not only the name, the work was also amazing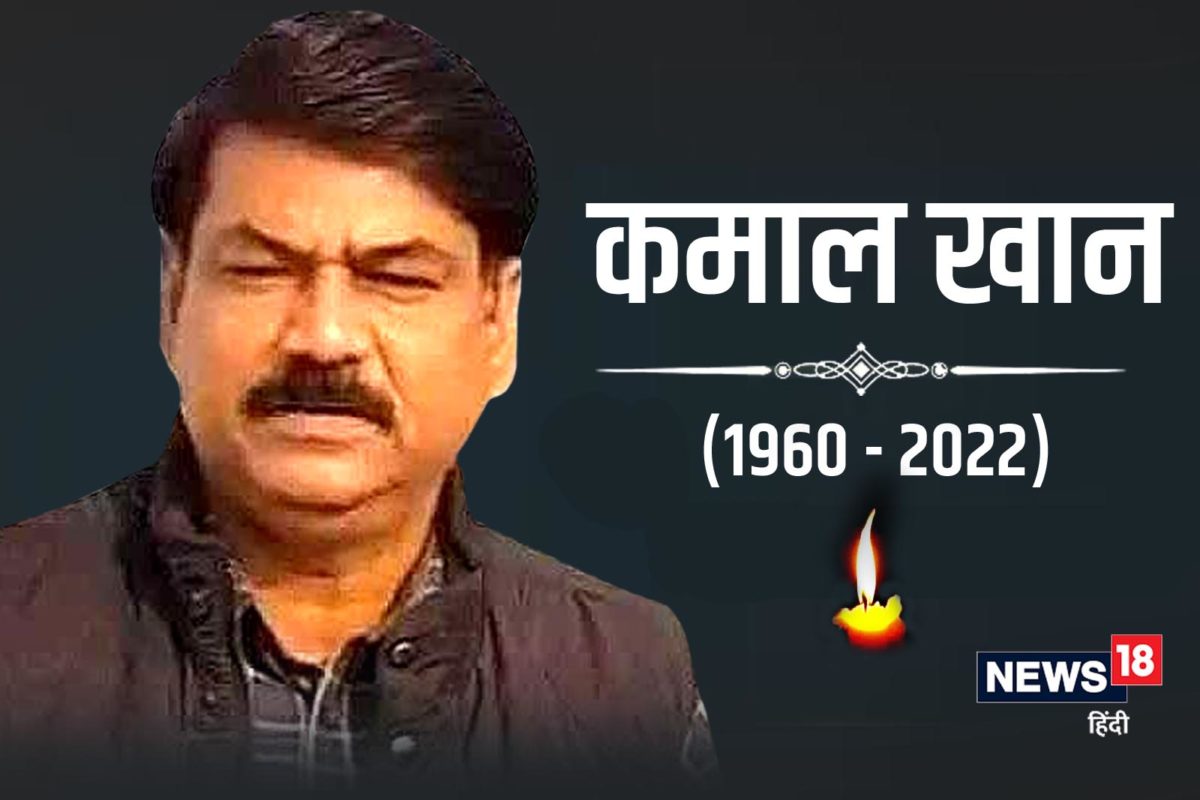 There are very few people who live by their name. One of such rare people was our amazing brother. The name is also amazing and the work is also amazing. Kamal khan When even a simple news was brought on the TV screen in its own way, it would have become amazing news. His way of doing PTC is a lesson for journalism students. If he belonged to Lucknow, then the tehzeeb was not only in his tongue, but it was also visible in the world of his news. There was no unnecessary aggression in his news. Nor screaming and screaming. Yes it is strong. It could have been learned from him to say the hardest thing in a polite manner.
Kamal Bhai started journalism from print. In the 90s, he appeared on behalf of Navbharat Times. Lucknow University came to cover. Then we used to see students and sometimes they used to work on news. later when i journalism When I came, there was constant contact with him. During work, he used to meet with him in the field. Kamal Bhai's wife Ruchi Kumar is also a senior TV journalist. During the work, seeing the passion of both of them about their respective news, many times we used to joke that Kamal Bhai, today Ruchi ji's news was better.
His knowledge in the political and social field was amazing. of Uttar Pradesh Encyclopedia of Politics Can say. Since he was associated with TV journalism from the early stages. That's why he had a very good relationship with all the big leaders. Sometimes when it was difficult to take a bite from a leader, we used to forward Kamal bhai. He was nothing less than a legacy for NDTV. He never gave news without facts or complete information, even if he may be a little behind in this era of breaking news. One reason for this was his work in print.
Along with journalism, he always had a passion for reading and writing. You will find a library in his house. One could find or buy a book at the Universal Book Depot in Hazratganj. Lucknow Book Fair In the middle of the books, Kamal Khan could often be seen.
Although he was a very simple and easygoing person, but he was also a celebrity of Lucknow. His presence in the cultural and social activities of the city was mandatory. He could often be seen among Lucknow University teachers, local writers, artists, senior IAS officers, big businessmen and politicians. they are journalists celebrity journalist Were. Many times we would see that while reporting in the field, people surrounded him and took selfies with him. I have not seen this craze among the common people for any journalist in Lucknow.
Yes, one aspect of his personality was journalism and fighting for his honor. Many times in the press conference, Kamal Bhai would retaliate with full gusto on the objectionable behavior of a leader. Always stood by the problems of journalists. Despite being so senior, respecting and guiding new journalists.
He was no match in presenting social and human news. By going to the remote villages of the state, he did humanitarian news. He was often seen in backward areas to report the exploitation of the poor and the atrocities of the powerful. These news of his created a stir many times. for his excellent journalism Ramnath Goenka Award and by the President of India Ganesh Shankar Vidyarthi Samman was awarded.
Kamal Khan, who has been doing journalism for about 35 years, stayed away from many other aspects related to this profession. In parties, he could be seen sitting aloof with simplicity. Always be simple in your personal life too. He often gave tips to fellow journalists on how to take regular walks, eat vegetarian food and deal with the stresses of journalism. See the irony, Kamal Bhai, who took so much care of his body and mind, suffered a heart attack and that too so fast that the family members did not even get a chance to take him to the hospital. Kamal Khan and Ruchi Kumar The pair has been seen as a perfect pair. Who caught sight of this cute and celebrity couple from Lucknow? My heart is filling for Ruchi ji. May God give them the strength to bear this great sorrow. Kamal Bhai used to end his PTC with some lion. After the departure of Kamal Bhai, this lion of poet Manzar Lakhnavi is being remembered-
Go God Hafiz but think about it,
Some will become crazy without you.
Goodbye awesome brother.
(Disclaimer: These are the personal views of the author. The author himself is responsible for the correctness / accuracy of any information given in the article. Newsbuzz.liveEnglish is not responsible in any way for this)
about blogger
Rajkumar Singh
journalist and writer
Rajkumar Singh, who has been active in journalism for almost two and a half decades, has worked in both TV and newspapers. Apart from Sahara Samay and News 24 channels, he has been the political editor of Navbharat Times Lucknow. He has also worked as a local editor in Dainik Hindustan. Rajkumar Singh is also a writer with a deep hold on political and social subjects. His ghazal collection 'Har Kissa Adhuri Hai' has been published by Rajkamal Group. This collection has also received the Dushyant Samman of Uttar Pradesh English Sansthan.
read more
window.addEventListener('load', (event) => {
setTimeout(() => {
nwGTMScript();
nwPWAScript();
fb_pixel_code();
}, 1000);
});
function nwGTMScript() {
(function(w,d,s,l,i){w[l]=w[l]||[];w[l].push({'gtm.start':
new Date().getTime(),event:'gtm.js'});var f=d.getElementsByTagName(s)[0],
j=d.createElement(s),dl=l!='dataLayer'?'&l="+l:"';j.async=true;j.src="https://www.googletagmanager.com/gtm.js?id="+i+dl;f.parentNode.insertBefore(j,f);
})(window,document,'script','dataLayer','GTM-PBM75F9′);
}
function nwPWAScript(){
var PWT = {};
var googletag = googletag || {};
googletag.cmd = googletag.cmd || [];
var gptRan = false;
PWT.jsLoaded = function() {
loadGpt();
};
(function() {
var purl = window.location.href;
var url="//ads.pubmatic.com/AdServer/js/pwt/113941/2060″;
var profileVersionId = ";
if (purl.indexOf('pwtv=') > 0) {
var regexp = /pwtv=(.*?)(&|$)/g;
var matches = regexp.exec(purl);
if (matches.length >= 2 && matches[1].length > 0) {
profileVersionId = "https://hindi.news18.com/" + matches[1];
}
}
var wtads = document.createElement('script');
wtads.async = true;
wtads.type="text/javascript";
wtads.src = url + profileVersionId + '/pwt.js';
var node = document.getElementsByTagName('script')[0];
node.parentNode.insertBefore(wtads, node);
})();
var loadGpt = function() {
// Check the gptRan flag
if (!gptRan) {
gptRan = true;
var gads = document.createElement('script');
var useSSL = 'https:' == document.location.protocol;
gads.src = (useSSL ? 'https:' : 'http:') + '//www.googletagservices.com/tag/js/gpt.js';
var node = document.getElementsByTagName('script')[0];
node.parentNode.insertBefore(gads, node);
}
}
// Failsafe to call gpt
setTimeout(loadGpt, 500);
}
// this function will act as a lock and will call the GPT API
function initAdserver(forced) {
if((forced === true && window.initAdserverFlag !== true) || (PWT.a9_BidsReceived && PWT.ow_BidsReceived)){
window.initAdserverFlag = true;
PWT.a9_BidsReceived = PWT.ow_BidsReceived = false;
googletag.pubads().refresh();
}
}
function fb_pixel_code() {
(function(f, b, e, v, n, t, s) {
if (f.fbq) return;
n = f.fbq = function() {
n.callMethod ?
n.callMethod.apply(n, arguments) : n.queue.push(arguments)
};
if (!f._fbq) f._fbq = n;
n.push = n;
n.loaded = !0;
n.version = '2.0';
n.queue = [];
t = b.createElement(e);
t.async = !0;
t.src = v;
s = b.getElementsByTagName(e)[0];
s.parentNode.insertBefore(t, s)
})(window, document, 'script', 'https://connect.facebook.net/en_US/fbevents.js');
fbq('init', '482038382136514');
fbq('track', 'PageView');
} ,