Read in Chhattisgarhi – Apna-Apna Bhaag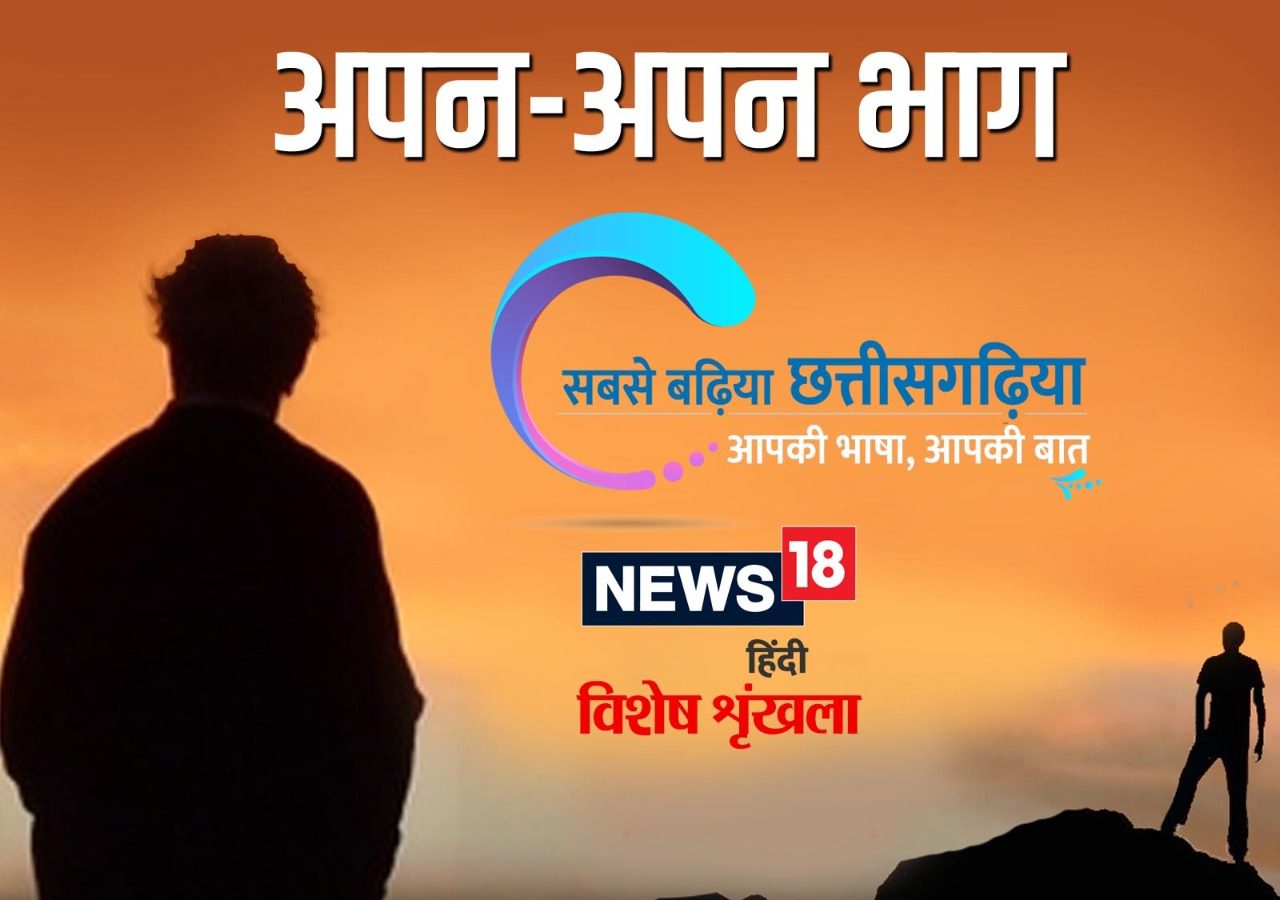 Aisan Murray Jiye's name is the grandfather of Kabar Lethus Budharu. For now, you are still alive. Why do I get bored?
Oh no, oh Jakali, are you so dear? Neither bera lagay nor kubera, nor sanjha dekhye nor bihaniya, neither day nor night nor winter, nor heat, just as long as the berry and the ice peacock swung above. Oh yes – you will not be angry, how many tirtirahs will be on the top, where are you? Daughter-in-law, son, daughter all jhan khisiyathav, night and day yekar pete peera say ye? Davai Daru Ghala Abbad Lagathe. We poor people, where can we buy many medicines, liquor, where can I buy it by borrowing and flooding, then give it to everyone who burns it in the house? All the same thing, I will take more life, don't be dead, take every cut and cut of the world, I would get out, and I would get rid of my mind.
Five years ago, when Ramdas La Pet Pira woke up, then he had to say that he was angry with his son. Today, when the pain in the stomach will rise, then every ocher without a chuckle will giggle. Ohr kahithe-thorko aker peta pira uthis tahan le aayebay baiha man asan gothiyawat. There will be ten ghouls of mola understanding, jhan pi liquor au jhan kha tamakhu l kahike fer kabhu mane ke naam lethas? Whose pet pirathe tahaan udde-udde ghar aathus au laika man asan sulhar ke kathas – ye budharu ke dai aana thokan pet la lagar de woh. Gaukin abd pira karthe, aise lagathe well-known paran every child is going out? Ka Karbe, Yeh Chola's mind is not acceptable and the night of pet la lagrat-lagarat bihani ke ber ho jathe gam nai milay.
Ramdas said – Now today you should take new drink, that is not to eat tobacco. Where do I drink wine, I used to drink every peacock in a month, but I would drink it. Yes. Abbad try and Budharu's midwife, then Nisa then Nissa came and dragged her.
Hey, if I ask you Tola well, see my stomach bring you tor Nisa La? Oh, this is the time of the mind and soul. After explaining our work, believe and believe to work. Tor asan apat la to samjavat-samjavat mor matha pira jathe. Hey, today you are looking at the time of your life. Then ghar ke bhatta nai bethge mor?' Bleakless wholesale reprimand.
Wonderful worry and worry Karthas o Budharu's Dai Taihar, my grandmother's grandfather's brother and one sister sister. Everyone knows about the condition of a single person. Gajab khayen au udayen au now there will be half a dozen laika peacocks. Everyone will stop eating and drinking. Sometimes now nisa kare le mil jathe toon la tain utak dirthas. These questions are related to the mind – everyone should come here with their own participation. When John did Karam, he got the Ola fruit. Do hard work, I eat bread, new earnings, Alali taxahi skipping Marhi. Dai Dada Laika Man La was born, brought up, brought up again and could give birth.
Duklahin ambush what kind of gothiyas learn to laugh? Apna kula here dhovavat naihe and other le big preaching bagharathas. Tainhar kathas-laika mind ke bar-behav peacock dies in the house built after the death, where did the daughter-in-law become daughter-in-law? Then you should become the behavior of your eldest son.
Ramdas- Tar bhai o baat l, jaare me noon l jhan o dar?
Yes, now kehen then kisi ke lagise jare asan? Three years ghala new pahay paisa, son l ghala algia desh? I would have been nearby and then the mind of the neighbors – mother-in-law, daughter-in-law, day and night, kitir-kitir hovat is free, the neighbor's mind has a few words to say, then stop the ten daughters-in-law upstairs. Do you eat fresh meat and stay alive, and your daughter will be born? Tola kihis then kisse tor aankhi jag-jag le ugharis. Before you die, you are right. Dukleless turn and go upstairs bifurcated. In the accompaniment of Pair Ka Karbe Pet Piraha, all Umar La Pahawat came, four tears were pouring out.
Half-heartedly Budharu came to Baith-buta with every gudi arrow. Ramdas is here at home in the pain of stomach, dying in pain, tafat rahay fish posture. The midwife Chandalin is engaged in every service effort; Sakri la deke sutge babu rahay toun har.
I was weeping in my heart and I went to churovat in my own body of gun. In one mind, I gave my son Lagari, Bakhanthe- 'Ikre seti Pal Pos's big Karev in my heart should stand in my arms, where did he kick? Tola Ikre seti nine months take a rakhen in your oar, your chest and chir's tola should drink milk, where do you see your red eyes and be different? Tola aisan janatev te nanpan mein chirai ke gongha la murket ke mare asan maar de tenv- kon gum patis? Mahtari had his own love. Today Vihi Maya is thrown out at every house at La Con Ghat.
Ramdas was able to save his stomach's mercury, then again today he kept on drinking alcohol, and because of this, he got rid of all the abuses. Cook a pohai ghee in the cream of the stomach. Ola koan hothan we have been engaged in writing milk and rice in jaker kismat. When he came to his senses, he said – Where is the wise man, he has come to work, he is the new one?
Dukalless- new come, die torment son har vihi dahar. Jeet bhitis then don't you see the weighment of atis? Oh sister, I see the diamond in the cot, O Eti? Kabar niharhi now ka need o ola nihare ke, who hotan haman okar?
Ramdas- Aise nai kahai goi mor, hey atke din le main khisiyawat rehenv hoon today tam okar upar khisiyawat laugh?
Dukalheen- not Khisiyahun, then the okar aarti, Uthan de bihaniya, when Ola Agtaria-Agataria mar ke okar bring me new in the senses place, ho te mahun har okar mahtari nahi? If I fought my face more then my jaw was la tor. Karis atek din le muhajori. Hey life, today it is akal ahi kaal, akal ahi fer ohr toh hath kar dis. Now climb up the side and hold it with your arms. Nan Nan Bhai Sister Ek Jhan Kamiya and ten Jhan Khavaiya who went home. Kora kora bulak jahoon kahat hohi o babu har.
Let us know, when will he grow up, he will be of his age, he will be like him right now. Who should do it now? Oh my house has fallen, the way it is moving, it has moved. Be your own happy Rahay Bhai, do your food and income rule. We are peravat then peravathan o kabar hamar with keera asan ramjay in the village. Ola kon hothan hum taria, humar sari umar to noon-stale khat-khat are written in jaker kismat.
Dukleless Gohar Parke Ro Daris after listening to these words of my Gosaiyan. Apna jingani la dosh devat oher kahithe- I want to ask God to make me rehenv te mola kakar sang milis? May everyone be able to listen to Taapt Haboun Mor Aagu Avaiya time har suggar hohi fer bidhina ke maya l bhala.
When you heard the cries of your midwife, then Budharu Gosin-Phulmati would ask if the midwife was crying. Who can stop laughing when you cry instead of crying. Budharu understands that he will talk about his daughter's daughter, so that he will not get up and talk about his midwife. Mahtari John Ola Palpos's many years will be gritty today? Jhanye bar ola a minute's leisure new millis? Son will be balm in time.
(Parmanand Verma is a senior journalist, views written in the article are his personal.)
Be the first to read breaking news in English Newsbuzz.live English | Today's latest news, live news updates, read most reliable English news website Newsbuzz.live English |
,