Uttarakhand Culture: There was less crowd at the ghats of the Ganges, but the faith on Covid at the Uttarayani fair was heavy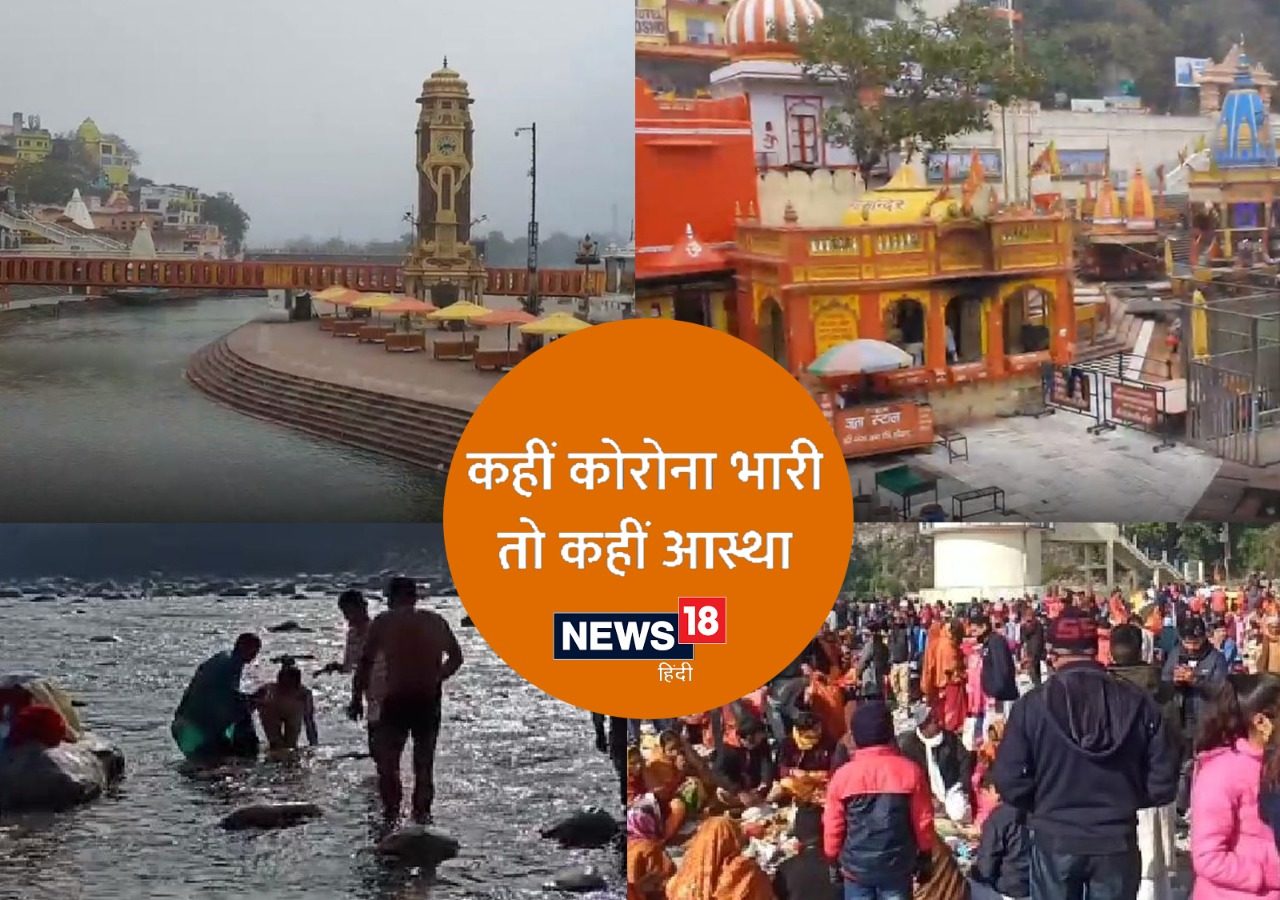 Uttarakhand Culture: There was less crowd at the ghats of the Ganges, but the faith on Covid at the Uttarayani fair was heavy
Ganga Snan 2022: The Uttarayani fair to be held in Bageshwar has had religious, commercial and political significance. The People's Movement in Uttarakhand completed 101 years this time to end the British-era porter-begar practice. The one who had influenced even Mahatma Gandhi, will not only tell you about that movement of the mountain, it also tells you what the views were on Makar Sankranti in the entire state (Sankranti in Uttarakhand). See the details of Uttarayani festival in Uttarakhand in pictures with inputs from Sushmita Thapa from Bageshwar.
The festival of Makar Sankranti has been celebrated with great pomp in Devbhoomi and on this occasion, special bathing in the Ganges and other rivers has been considered important. But like last time, this time also Uttarayan festival could not be celebrated on a large scale according to religious beliefs because corona infection is increasing rapidly in the state. Restrictions were already imposed in the state on the special bathing of Makar Sankranti, due to which the ghats of the Ganges were almost deserted on this occasion, but thousands of people were seen on Friday at the confluence of Saryu and Gomti in Bageshwar.
This time the Bageshwar administration had made preparations to celebrate the Uttarayani fair with grandeur, but it had to be cancelled. However, due to beliefs, devotees arrived. The worship queues started in the Bagnath temple from 4 am on Friday. Overall, faith in the corona epidemic was seen here and more than 5 thousand devotees appeared here.
A huge crowd also gathered for the sacrificial rites in Surajkund. At Bageshwar Sangam, people from Almora, Pithoragarh, Chamoli, Haldwani, including Rajasthan and Delhi, came to conduct the Janeu rites of their children. In this historical fair, we will also tell you about the end of an evil, but first let's see the details of bathing.
How were the views on the Ganges Ghats? Very few people were seen on the ghats of the Ganges on Makar Sankranti festival in Haridwar and Rishikesh. In normal circumstances, police were stationed at Har ki Paidi in Haridwar and Triveni Ghat in Rishikesh, which is filled with lakhs of devotees, so that the Kovid restrictions could be followed. According to the news, there should be a ban on bathing in Uttarayan, for this, a lot of checking and patrolling was done on the border of Haridwar. Those who were trying to reach here, unaware of the ban, were explained and returned.
Haridwar DM Vijay Shankar Pandey and Dehradun DM R Rajesh Kumar had issued orders forbidding the bathing of Sankranti a few days back. Although there are reports that some crowd was seen at Subhash Ghat, not far from Har Ki Paidi, but SP City Swatantra Kumar was quoted as saying that some people had reached there for the last rites purpose. It is worth noting that this time many events of Uttarayan or Magh are affected due to Kovid across the state.
End of Begar Practice: Uttarayani Fair in Bageshwar has been of historical importance. In the olden times, merchants used to reach from up to Tibet in trade based fairs. In 1921, a phase of political activism began in Bageshwar by flushing out the registers of porter forced labor at the confluence of Saryu-Gomti. On January 14, 1921, on the day of Makar Sankranti, people from remote areas of the mountain reached Bageshwar. Here he put an end to the forced forced forced labor system by the British government. Then there was a lot of discussion about this revolution across the country. Mahatma Gandhi was also influenced by this movement.
First published:
,