Swami Prasad Maurya Vs Keshav Prasad Maurya… Who will become the juggler of Maurya votes in UP?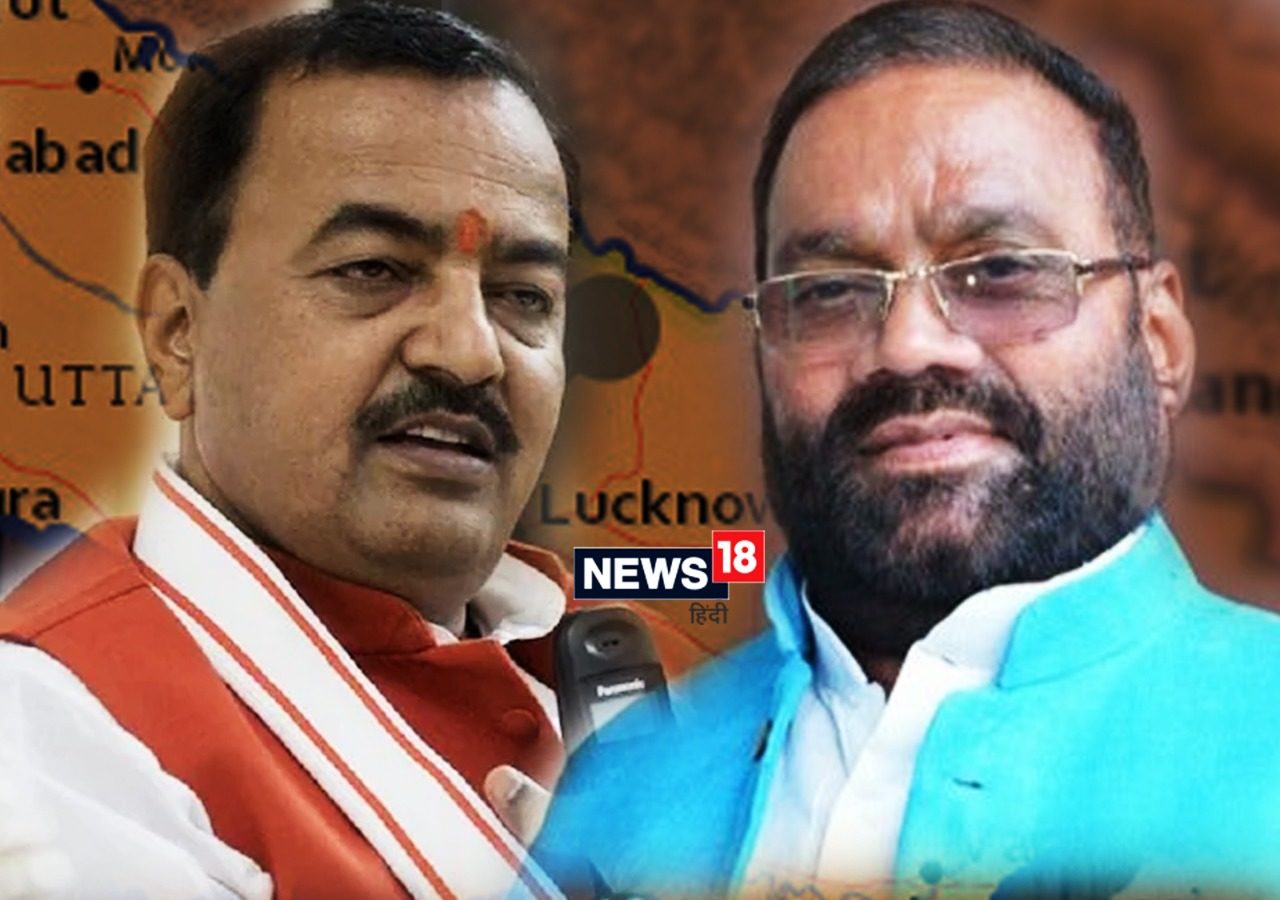 Swami Prasad Maurya Vs Keshav Prasad Maurya… Who will become the juggler of Maurya votes in UP?
UP Election 2022 Swami prasad Maurya: Makar Sankranti has its own importance in the cultural scenario of Uttar Pradesh, this day is special because on this day the sun is Uttarayan and auspicious works begin… But a week before Makar Sankranti, UP The upheaval in the politics of UP intensified and in this upheaval Swami Prasad Maurya emerged as the leader on the political stage, Swami Prasad Maurya, who came to BJP from BSP in 2016, resigned from the cabinet of Yogi government of UP and said that he would be on January 14. Will join Akhilesh Yadav's Samajwadi Party on the day of Makar Sankranti. It is worth noting that when the news of Swami Prasad Maurya's resignation came, UP Deputy CM Keshav Prasad Maurya tweeted and appealed to him to consider his decision and sit down and talk. This tweet of Keshav Maurya is important because in the 2017 assembly elections, BJP had put forward Swami Prasad Maurya and Keshav Prasad Maurya to attract non-Yadav OBCs (Kushwaha, Shakya, Maurya) to their side. He had made a face. Five years ago, Keshav and Swami were charioteer in the same chariot, but now they are standing in opposition to each other, so it is interesting to know who has more hold on the non-Yadav OBC votes and who is the game changer for their party. can be proved.
Swami Prasad Maurya started his political journey with Janata Dal, but got political success after joining BSP. He was MLA four times from BSP and became MLC once. The name of Swami Prasad Maurya used to come in the close leaders of Mayawati. He remained from the state president of BSP to the national general secretary, but before the 2017 elections, he left the BSP and joined the BJP. Maurya first became an MLA from Dalmau in 1996. Then in 2002 also won from Dalmau. After this, contested the by-election from Kushinagar Lok Sabha in 2009 from BSP, but lost. After this, in the 2009 Lok Sabha elections, after the victory of RPN Singh, he contested and won the election on a BSP ticket from the Padrauna assembly seat that fell vacant. In 2012, contested the elections from BSP from Padrauna Assembly and became the Leader of Opposition by winning. Left BSP and joined BJP in 2016. In 2017, he became an MLA after winning the election from Padrauna on a BJP ticket. Swami Prasad Maurya's father's name was Badlu Maurya, his family follows Buddha and is among the leaders following the principles of Ambedkar-Kanshi Ram, which is why he has been doing Dalit-OBC politics since the beginning. Swami Prasad Maurya started his political journey with Lok Dal, but he got political heights in BSP. Maurya is a five-time MLA and was a minister from BSP to BJP government. From BSP's UP State President to National General Secretary and has also played the role of Leader of Opposition in the Assembly.
Keshav Prasad Maurya started his politics with Vishwa Hindu Parishad and lived under Ashok Singhal, the international president of VHP. Keshav Prasad Maurya achieved his first political success in 2012 and two years later, he was elected as an MP in the 2014 Lok Sabha elections. After this, the political stature of Keshav Maurya kept increasing in the BJP. The party made him the state president in UP. Keshav Maurya, who took part in the Ram Janmabhoomi movement, was born in 1969 at Sirathu in Kaushambi district, adjacent to Prayagraj. He was the first BJP MLA to win Sirathu Tehsil in the 2019 elections. Later he was elected MP from Phulpur and then became a PWD minister in the Yogi government. At the same time, after becoming the Deputy CM in 2017, the coin started running in Keshav Prasad Maurya's UP. This is where the difference between Swami Prasad Maurya and Keshav Prasad Maurya became clear, even after having less political experience, Keshav Maurya's stature in BJP was bigger than Swami Prasad Maurya… Swami Prasad Maurya as Labor and Employment Minister in the Yogi government was carrying out the responsibility.
In Uttar Pradesh, Maurya sees society by linking himself with Emperor Ashoka and Maurya dynasty. That's why most of the population believes in Buddha. Swami Prasad Maurya is also associated with this faith, but Keshav Prasad Maurya does politics of Hindutva. Keshav has always been with the organization, such as VHP, RSS and BJP, while Swami Prasad Maurya has been doing his politics on the basis of party based organization. Although after leaving the BSP, he formed the organization in 2016 by doing his democratic Bahujan Manch, but later moved to the BJP and now he is with the SP. Talking about Maurya society, they are known by different names in different parts of UP. For example, they are known by the names of Shakya, Saini, Kushwaha, Koiri, Kachi. Maurya-Kushwaha population is about 6 percent in UP, but in about 15 districts, their population is close to 15 percent. In western UP they are known as Saini Samaj, while in the areas around Brij and Kanpur they are known as Shakya Samaj. In Bundelkhand and Purvanchal they are known as Kushwaha Samaj. At the same time, in the districts of Awadh, Rohilkhand and Purvanchal, it is known as Maurya.
Talking about the political trend of Maurya-Shakya-Kushwaha-Saini society coming under OBC, this class has never been with any one party, this society has been changing its allegiance in every election. After independence, while voting for Congress, it also voted for Lok Dal and Janata Dal. In UP, it remained divided between SP and BSP, so in 2017 this class of voters voted for BJP. Talking about the hold of Swami Prasad Maurya over the Maurya-Shakya-Kushwaha society, Mayawati has been doing politics for the people of this community through them. Mayawati made Swami Prasad Maurya from the post of state president of the party to the national general secretary. After 1996, Swami Prasad Maurya held a big position and position in the politics of UP, through which he got a good hold on his society and voters.
Guess their hold in such a way that Swami Prasad Maurya, a resident of Chakvadh, is from Pratapgarh, but does politics in Kushinagar on the other end of Purvanchal, he has made his daughter an MP from Badaun in Rohilkhand in western UP. His son Uttrakta Maurya had last contested from Unchahar seat of Rae Bareli, while his supporters Maurya leaders have been MLAs from different parts of UP, who have resigned in support of Swami Prasad Maurya after his resignation from BJP. It is clear that his base and hold is in the whole of UP.
In this way, Swami Prasad Maurya has more than two decades of experience in the politics of UP, while Keshav Prasad Maurya has been in politics for only a decade. The two leaders, who were in the same party a week ago, are now politically rivals and both have the responsibility of saving the votes of their respective communities for their party. It is to be seen that Maurya, Shakya, Kushwaha community, who voted for BJP in the face of Swami and Keshav in the last elections, gives their support this time.
First published:
,