Indian Railways: 12 trains connected with Rajasthan and Madhya Pradesh canceled, 28 routes changed, see full list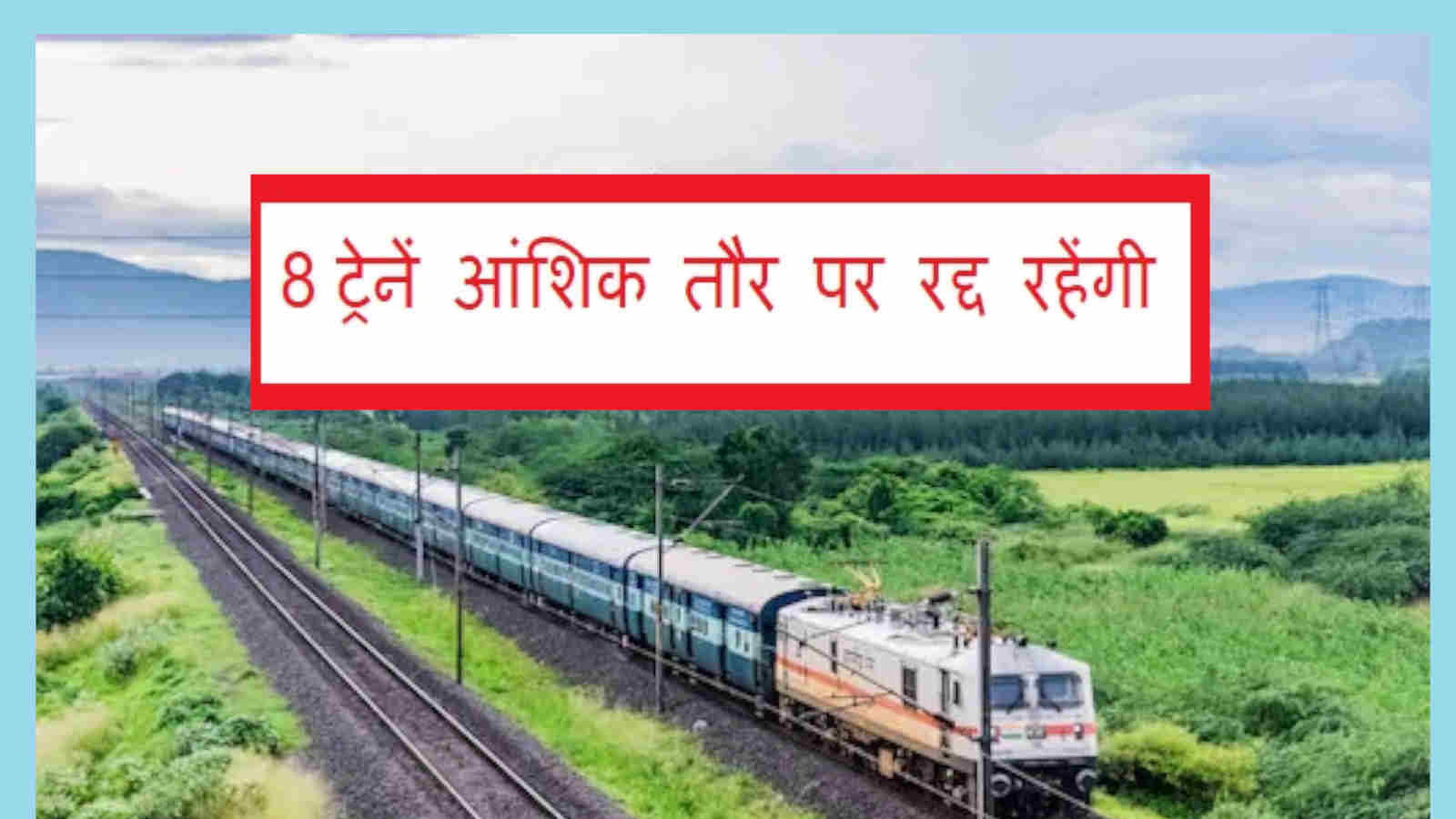 Jaipur. Railways recently started regular operation of trains again after getting relief in the Corona period. But due to the work of doubling in the North Western Railway (NWR) railway zone, once again a big block is being taken. Due to this a dozen trains are being canceled simultaneously. At the same time, the route of 28 trains is being changed. 8 trains are being partially cancelled. The railway administration has released the list of these trains so that the passengers do not face any problems.
According to Shashi Kiran, CPRO of North Western Railway, another major reshuffle is being done for some time regarding trains under NWR Railway Zone. Due to the ongoing technical work in NWR, again a dozen trains are being canceled. Their full schedule has been released. The passengers traveling in these trains should make their itinerary only after seeing the time table so that they do not have to face any problem at the time of arrival.
These trains have been canceled (All these trains will be canceled between December 14 and December 30.)
Train No. 14813- Bhopal – Jodhpur
Train No. 14814- Bhopal – Jodhpur
Train No. 22464- Bikaner – Delhi Sarai
Train No. 12463- Delhi Sarai – Jodhpur
Train No. 12464- Jodhpur – Delhi Sarai
Train No. 14812- Delhi Sarai – Sikar
Train No. 14811- Sikar – Delhi Sarai
Train No. 22463- Delhi Sarai- Bikaner
Train No. 14823- Jodhpur – Rewari
Train No. 14824- Rewari-Jodhpur
Train No. 22481- JODHPUR – DELHI SARAI
Train No. 22482 – Delhi Sarai – Jodhpur
Rail passengers will get refund
According to CPRO Shashi Kiran, apart from this 8 trains will be partially canceled. Their period will be between December 20 and December 30. At the same time, the route of 28 trains is being changed. These 28 trains will run on the changed route between December 20 and December 30. Railways will refund thousands of railway passengers affected due to the closure or change of route of all these trains.
All trains will be restored by the end of December
According to the railway management, at present this change will be for a few days only. All trains will be restored by the end of December. Thousands of passengers whose reservations were made in these canceled trains will be given refund on cancellation of reservation.



Rajasthan Weather Alert: Weather will change from today! It may rain in these districts including Udaipur division




16 thousand people will get their home, you can also become the owner of your house, know how




'Back to work' scheme for women leaving jobs, CM Ashok Gehlot approved, know details




There will be no water supply in many areas in Jaipur tomorrow, know which areas will be affected




Congress will appoint two district heads in these 3 cities including Jaipur, preparations complete




CM Gehlot said on government recruitment, said – it is not right to put question marks on every exam




Cabinet Minister Hemaram Chaudhary said, 'CM Gehlot gave me the most challenging department'




RPSC ASO Recruitment 2021: Assistant Statistical Officer Recruitment notice issued, application will start from 1st December




RSMSSB VDO Recruitment 2021: Forms of these candidates who applied for Village Development Officer in Rajasthan were canceled




Corona positive 2 NRI children returned to America from Rajasthan, had gone for 15 days, now there is a stir




Rajasthan: When the partner told the answer in the pre-test, the teacher beat the student with kicks and punches, broke his hand
Read English News see more online Live Newsbuzz.live English website. Know related to country and abroad and your state, Bollywood, sports world, business News in English. Us Facebook, Twitter, Instagram and Telegram Follow on.
Tags: Indian railway, Indian Railway news, Rajasthan latest news, Rajasthan News Update
,